Khoury Architects was faced with a number of challenges when asked by Pointcrest to change the use of a 5 storey office block into 8 residential apartments in the Bow Lane Conservation Area:
Small building footprint of approximately 800 square foot
The building was surrounded on 3 sides by 4 different buildings
Privacy: an opposing building less than 3 metres away
The South facing primary elevation was the only source of light for the interior spaces and presented the problem of heat gain in the summer months
Fire escape route of neighbouring properties was across the roof of 12 Well Court
Restricted site access: height restriction & narrow passageway in which to carry out construction
Khoury Architects and Pointcrest worked in collaboration to maximise the numerous opportunities presented by the site:
Surrounding building heights were a precedent for taller buildings in the area
Previous office use required higher structural loadings than the proposed residential use
Prime location for local amenities, favourable transport links and excellent views from existing roof level
Provision of 1 and 2 bed units fit the City's social demographic, complemented local planning policy to increase residential density and when combined with residential units at 11 Well Court, helped to build a local community
Khoury Architects proposals focussed on a full interior refurbishment, design of completely new facades and the addition of 3 new build floors. The top two floors housed duplex apartments with fully glazed living areas and roof terraces which maximised views of the surrounding conservation area and City. The small building footprint was overcome by proposing a predominantly glass facade, open plan spaces, glass partitioning for deep plan spaces and duplex arrangements for the penthouse apartments. The Southern facade is proposed as predominantly floor to ceiling glazing to maximize day light penetration with automated brise soleil to minimise heat gain and promote privacy. The brise soleil were integrated within the solid areas behind stone cornices which referenced the Conservation area vernacular.
A series of private roof terraces on top of the building are also punctuated with retractable roof lights that afford access to the terraces and further light penetration to internal spaces.
The theme of light, reflection and automation was integral to the scheme. Internally bathrooms were partitioned with frameless glass screens to facilitate the benefit of borrowed light from areas facing adjacent the open facade. The fronts of kitchens in open plan living spaces were back painted glass to enable light reflection back into the space. The kitchens featured hidden LED lighting and motorised opening cupboards that retracted automatically when tapped.
The reuse of outdated buildings that cannot serve new business demands coupled with automation and smart home technologies make this development a worthy part of our residential futures.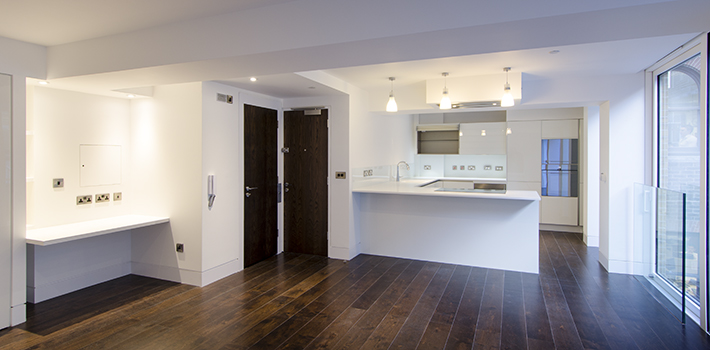 12 Well Court was completed in 2013 with a contract value of £2M. The project won the Residential or Community Structures Award at the Institute of Structural Engineering Midlands Counties Awards 2015. It also featured in UK Construction Housing Magazine.